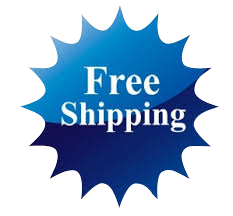 DC-100 DTV CAM Series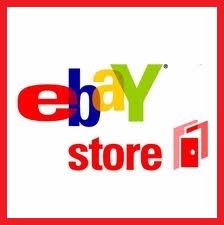 Ref. Price: US$250/300/350
Features
Painless upgrade to full HD
Reuse existing coaxial cable deployment without any special requirement for cable & connecter. DVB-T signal is so robust that even a degraded and aged cable can be used to convey full HD signal perfectly.

Easy and friendly user experience
There is no lousy network IP configuration and no need to use a desktop or notebook PC. It's just as easy as watching TV programs with a TV set or SetTopBox.

Long Distance
Easily transmit 1080p video over a single 3C2V/RG59 cable for at least 500 meters long without adding any repeater.
For wireless applications, the line of sight transmission distance may reach 50~100 meters at 0dBm RF radiation power and up to several kilo meters at 20 dBm. The real distance depends on the antenna design and receiver quality.

Daisy-chain Connection (Bus-Topology)
Multiple DTV CAM's with different channel configurations can share a single cable. It can dramatically reduce the cable deployment cost and effort.
Mux multiple video streams
Support multiple video streams at the same time, for example 1080P/720P, D1, CIF, and JPG…

Real time protocol and Low latency
No frame drop in QEF (Quasi-Error-Free) condition, and low transmission latency
Order Information
Model Number

Lens
Housing
Photos
Package
Weight
DC-100-B-00
Not included
Box
730g
DC-100-B-01
Computar MegaPixel
CBC, Japan
AG3Z3112FCS-MPIR
F3.1-8mm, F1.2(IR)
CS mount

Box
930g
DC-100-B-02
Ricom
Forecam, China
RV03312D.IR
F3.3-12mm, F1.4
CS mount

Box
810g
General Specifications
Video

Image Sensor

1/2.5" 5M CMOS MegaPixel

Effective Number of Pixels

2592(H) * 1944(V)

Resolution

HD/SD Dual Streams:
a.1080P/24FPS x 1
b.480P or 576P/24FPS x 1


Video Compression

H.264 up to 1920x1080x30P

Video Transmission Protocol

DVB-T

Shutter Control

AUTO, 1/60 ~ 1/15000

Auto Gain Control

AUTO

White Balance

AUTO

Back Light Compensation

AUTO

Day & Night

AUTO

Scanning System

Progressive

S/N Ratio

44dB

BNC Video Output

1.0 Vp-p, 75 ohm

Motion Detection

ON/ OFF

Privacy

ON/ OFF

Audio
Not support by default

Power

Power Supply

DC 12V

Power Consumption

6W

Lens**

3.1~8mm/F1.2, Megapixel Varifocal Lens(Standard)

IR

30 pcs, 20 meters

Dimension

155x 58 x 50 (LxWxH, excluding lens and power adaptor)

Weight

430g (excluding lens and power adaptor)

Operating Temperature

-10℃ ~ 60℃
DVB-T RF Transmitter Specifications
Parameter
Value
RF connector
75-Ω BNC connecters
Bandwidth
6/7/8 MHz (Bandwidth setting by internal jumpers)
(2/3/4 MHz bandwidth option is also available)

FFT
2K, 8K
Code rate
1/2, 2/3, 3/4, 5/6, 7/8
Guard interval
1/4, 1/8, 1/16 or 1/32
Frequency range
170 .. 950MHzVHF 6M BW/UHF 6M BW: Channel: CH7~CH83VHF 7M BW/UHF 7M BW: Channel: CH5~CH69VHF 8M BW/UHF 8M BW: Channel: CH5~CH69
Channel setting by two rotary switches (00~99)
RF Output Level
3 dBm (105 dBuV) Typically
Digital Attenuator
Range:+6/-25dB* , Step size 1dB
MER
35dB Typically
Spectrum Shoulder (Adjacent channel)
45dB
Phase noise
<-92dBc @ 10kHz
Carrier Suppression
>42dB
Specifications are subject to change without prior notice. *: There could be MER loss in high gain/attenuation level. **: All the above configurable settings can also be set by firmware or DVB-T return channel (optional). ***: Paid SDK is available for developers on request.
DTV CAM Application Scenario-Wireless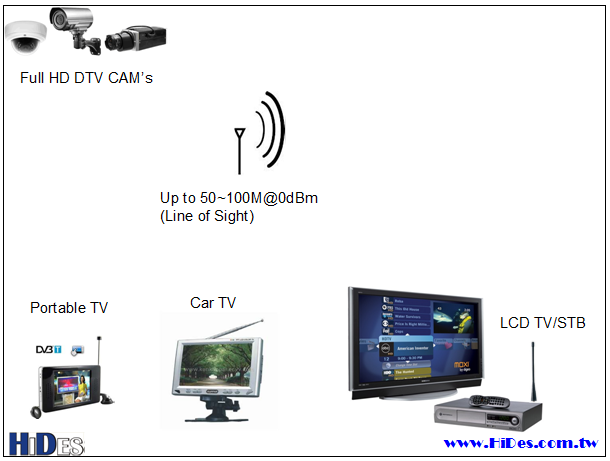 DTV CAM Application Scenario-Wired
System Deployment Example – Bus Topology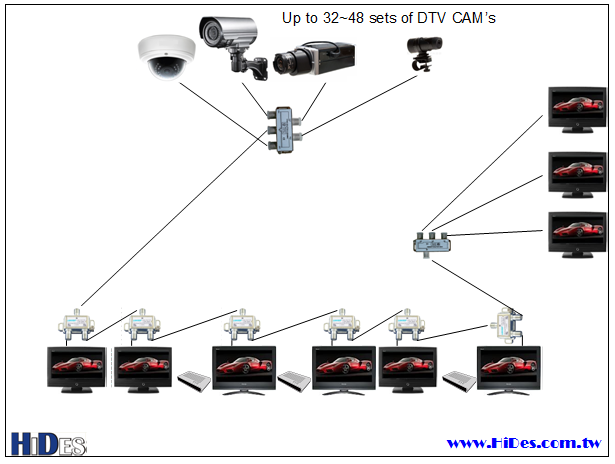 DTV CAM Application – Live Video Broadcast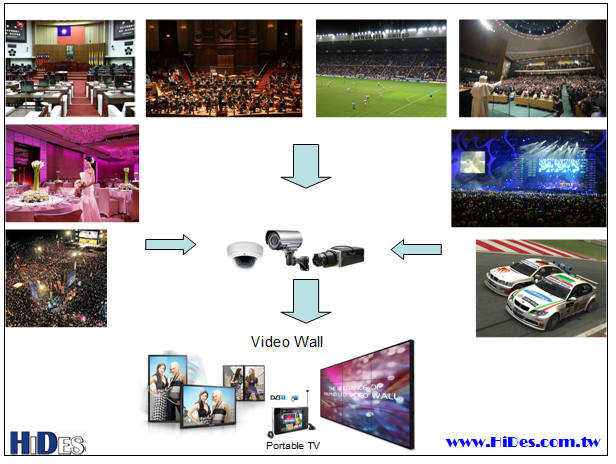 Mobile DTV CAM Application – Live Video Monitor